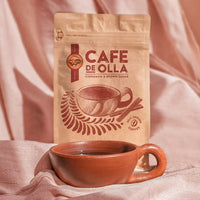 Made with organic, fair trade, single-origin coffee beans sourced from the mountains of Southern Mexico. We spent hours handcrafting our recipe, combining only three simple natural ingredients to create the perfect balance of mild sweetness and cinnamon-spiced coffee. You'll see coarsely ground Mexican cinnamon sticks mixed in our Cafe de Olla, and smell its exquisite aroma as it's brewing.

READY TO BREW – Comes grounded in 12 oz bags that's ready to brew. Shake well before use and brew as you would regular coffee with auto drip or press. You can also measure and place the grounds into a Keurig disposable cup.

ECOLIFE PARTNERSHIP - 1% of the proceeds from the sale of this product are donated to Ecolife Conservation efforts to combat deforestation in the Monarch Butterfly Preserve in Michoacan Mexico.

.